Looking for an original and creative addition to your event?
Book your virtual graffiti wall now at Virtualgraffiti.nl
The Virtual graffiti wall
Surprise your guests with the virtual graffiti wall at events, parties, product presentations, conferences and exhibitions. Digiffiti is a interactive multi-user application with which you can create digital graffiti on a large screen. Play and create with colours, line widths an stencils!
We work with special sprays where, instead of paint, infra red light comes out which communicates with the Digiffiti application. A major advantage of working with infra red light is that it does not release the smell or haze that paint releases.
Nice is that the characteristic sissing sound of the aerosol during spraying is also heard with Digiffiti. Digiffiti is developed by real graffiti artists with more then 20 years graffiti to make the experience as real as possible.
Open entry workshops
You can provide the creative sessions within an event or as a stand-alone activity. Our graffiti wall is very suitable for open entry workshops, where all visitors can join in and spray on the virtual wall simultaneously, creating one big piece of art.
We can tailor the virtual wall entirely to your wishes. The wall offers an original way to introduce your guests to your company, brand or service, by customizing it with, for example, your company logo.
The virtual graffiti-wall, inspirational & colorful!
Live-painting and demonstrations
We provide graffiti demonstrations and live painting during product presentations, (business) events, parties, exhibitions and branch days. We could create a painting with a theme in style of the event, the logo of your company, a product or service or with input from the guests.
Our paintings will add something extraordinary to your event! A graffiti demonstration is inspiring to watch, the picture grows during the event and the end result is unique. We bring your brand or expression to live in a creative way!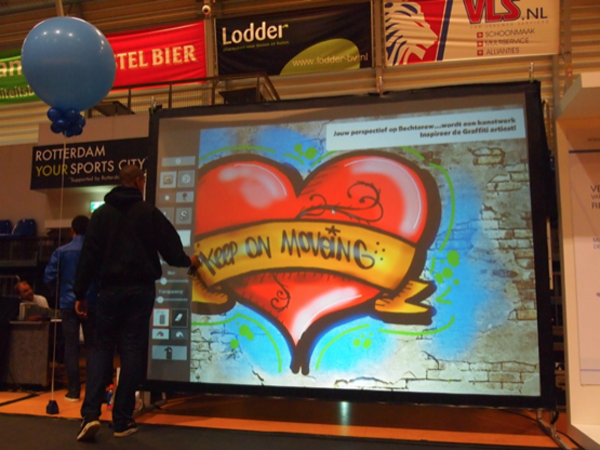 Spraying virtual graffiti, how does it work?
We create digital graffiti-artwork for your clients and associates during an event or party. Customize your brand or product with our digital graffiti wall in a unique way! Digiffiti is a interactive multi-user application, which provides you with virtual graffiti on a large screen. The created artwork is automatically saved and sent per e-mail.
An additional option would be to print the created artwork on glossy paper during the event already, to take home for the customer. A unique and original addition during your event or party! Digiffiti, virtual graffiti without the smell and haze of paint.
Entertainment during events
Your logo or newest product can be placed in the background, replacing the standard digital brick wall. It is also possible to add your logo as an overlay. The visual of your choice will always be visible on the foreground and cannot be sprayed over. This way, the graffiti wall offers creative joy throughout an entire event while simultaneously boosting your brand.
Open walk-in workshops on a virtual graffiti wall at events, celebrations and fairs. Spraying without the smell and haze of paint thanks to Virtualgraffiti.nl
Practical information about digital graffiti
The Digiffiti application has a palette of 15 colours and 3 line widths. It uses 15 templates, different backgrounds and a overlay to place a logo, image or message. The overlay cannot be sprayed over, it always stays visible on the foreground.
The background in the application can pre-fitted with a "branding" by the client and eventually replace it completely by his own visual. It is also possible to place a silhouette or colouring picture of an object or product as background.
The participants would then make a creation with your object or product as a base during an event. The virtual graffiti wall is a creative open walk-in activity, suitable for occasions like:
• Corporate events
• Staff parties
• Family celebrations
• Industry days
• Product presentations
• Brand activations
• Conferences
• Open days
• Scholarships
• Festivals
Entertain your guests with an original and creative side-activity. Many will experience graffiti for the first time in their live! Experience graffiti without the hassle of paint stains, smell or haze. Our digital graffiti wall based on infrared light makes it possible! Very realistic experience preserving even the typical hissing sound of spray cans.
Curious about the possibilities?
We'll be happy to send you non-committal information at your request. After completing the contact form as clearly and completely as possible, we'll get a good picture of your wishes and ideas. Usually you'll get a response the same day. Perhaps until at your location?
Ask your question by telephone +31(0)85-0600321 or send us a message via WhatsApp.